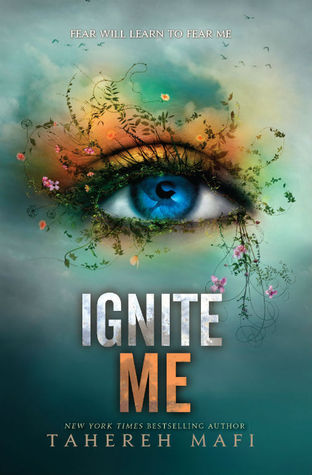 Name: Ignite Me (Shatter Me # 3)
Publisher: HarperCollins
Release Date:
February 14th, 2014
Format: E-book
Buy the book on
Amazon
416 pages
Summary:
The heart-stopping conclusion to the New York Times bestselling Shatter Me series, which Ransom Riggs, bestselling author of Miss Peregrine's Home for Peculiar Children, called "a thrilling, high-stakes saga of self-discovery and forbidden love."
With Omega Point destroyed, Juliette doesn't know if the rebels, her friends, or even Adam are alive. But that won't keep her from trying to take down The Reestablishment once and for all. Now she must rely on Warner, the handsome commander of Sector 45. The one person she never thought she could trust. The same person who saved her life. He promises to help Juliette master her powers and save their dying world . . . but that's not all he wants with her.
The Shatter Me series is perfect for fans who crave action-packed young adult novels with tantalizing romance like Divergent by Veronica Roth, The Hunger Games by Suzanne Collins, and Legend by Marie Lu. Tahereh Mafi has created a captivating and original story that combines the best of dystopian and paranormal, and was praised by Publishers Weekly as "a gripping read from an author who's not afraid to take risks." Now this final book brings the series to a shocking and satisfying end.
Goodreads
My Review:
Ignite Me was a wonderful conclusion to a fantastic series! Although I cannot deny that the first book was by far my favorite, I still thought that this book was a great conclusion that really wrapped up everything that happened in the series, while still having an intriguing plot of its own.

Some of the events that occurred throughout the book were a bit predictable; at times, it seemed that I knew exactly what was going to happen next. Yet, at the same time, the series as a whole was far from predictable, mainly because the main character, Juliette, completely changed as the books progressed. The first image we see of Juliette is a broken girl in an insane asylum; she doesn't trust anyone around her, and more importantly she doesn't trust herself. However, by the end of the third and final book, Juliette really steps up and discovers her true potential. She becomes a powerful young woman who takes responsibility for her actions and has the ability to make the choices that are best for her, even if not everyone around her agrees.

I am not generally a huge fan of love triangles, and so that was one of the things that I didn't particularly enjoy about this book. However, I do have to give Tahereh Mafi a great deal of credit for how this triangle turned out to be much less annoying than many of the others I have read. Throughout this book especially, Juliette really knows what she wants. While there are definitely two boys who each want to be with her, it is not as if the book centers around her thinking which one should I choose? Juliette recognizes that there are more important things for her to focus on, and rightfully so. That being said, the two boys still were clearly fighting over her.

In general, I found Ignite Me to be a great read! Mafi is a fantastic writer, and every time I found myself growing a bit bored of the story, she would pull be right back in with her beautiful prose. I would definitely say that the first book, Shatter Me, was my favorite, but I was still impressed with the series as a whole. I hope that Mafi continues to write many more books in the future; I would love to read anything she writes!


My Rating: